Il y a déjà un moment que nous n'avons plus consulté l'offre de vins proposée par Vivino, un peu refroidis par notre constat de mai 2018. Mais le temps passe et les acteurs de la vente en ligne évoluent. Il est donc juste de se pencher à nouveau sur l'offre de Vivino pour les consommateurs belges afin de déceler les éventuelles améliorations en matière de prix.
En indiquant le pays de livraison Belgique et la langue Français, nous avons rapidement obtenu une sélection de vins avec d'incroyables réductions proposés par Vivino Nederland.
La Sélection de vins
15/20 – Il y a vraiment beaucoup de diversité si on combine les différentes offres de Vivino Nederland et des différents partenaires qui livrent en Belgique. Le seul point d'attention reste le prix. Les prix de départs sont souvent surévalués par rapport à ce que l'on trouve sur le marché et les promotions alléchantes ne font que ramener au prix normal sur le marché belge. Toutefois, sur les vins rares, il y a des choses intéressantes ici et là. Il faudra donc chercher et comparer.
Masseto 2016 : vin rare et recherché dont le prix tourne autour des 800 dollars, soit 735 euros. Pas vraiment de réduction.
Vivino : €800 – 6% = €749,95
Vino e Storia : €748,99 sans réduction
Historic Wines : €785 sans réduction
Maya 2016 : vin difficile à trouver en Belgique. Le prix de départ semble juste et la réduction vaut la peine.
Vivino : €449 – 12% = €395
Magnus Wijnen : €455,90 sans réduction
Opus One 2016 : après réduction de 25%, c'est encore plus cher que le prix bas du marché belge.
Vivino : €465 – 25% = €349,95
Magnus Wijnen : €329,90 sans réduction
Château Angelus 2016 : on part d'un prix relativement élevé pour arriver au prix bas du marché belge.
Vivino : €425 -16% = €359
Magnus Wijnen : €359,90 sans réduction
Best of Wines : €410,19 sans réduction
Wine and Co : €439 sans réduction
Millesima : €448,33 par 6 bouteilles
Contador 2012 : nous ne trouvons pas d'autre point de vente en Belgique.
Vivino : €299 -20% = €239,95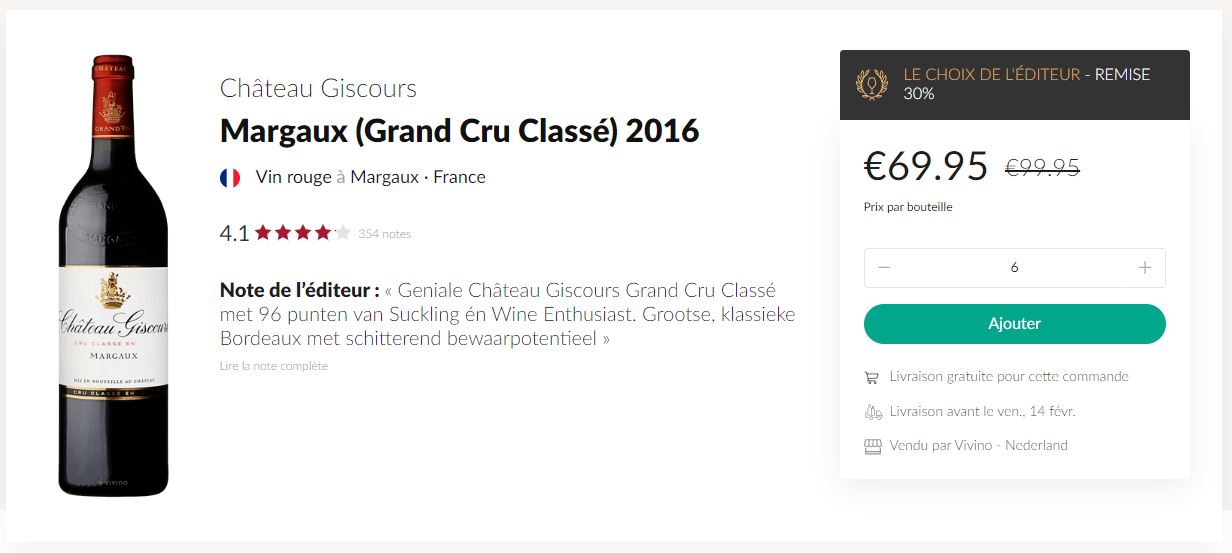 Château Giscours 2016 : le prix de départ de 100 euros est illusoire. Le prix promo de 70 euros correspond au prix bas du marché. 
Vivino : €99,95 -30% = €69,95
Grands Vins Sélection Colruyt : €71,95 sans réduction
Millésima : €75,83 par 12 bouteilles
Vinatis : €68,44 par 2 bouteilles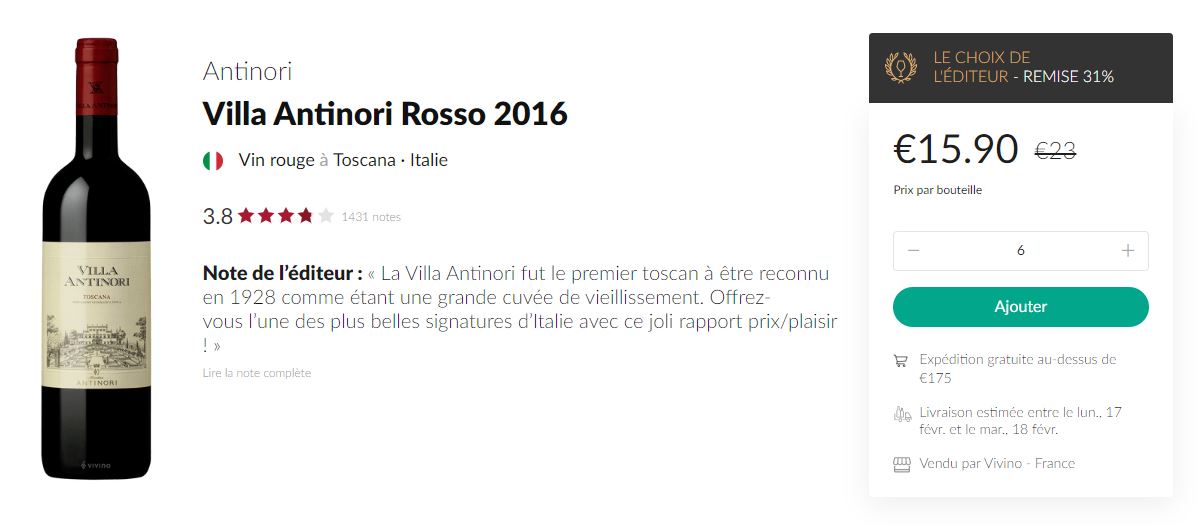 Villa Antinori 2016 : prix de départ de 23 euros complètement illusoire par rapport au prix sur le marché belge. La prétendue réduction amène au prix normal.
Delhaize : €14,99 sans réduction
De Coninck : €17,50 sans réduction
L'expérience utilisateur 
11/20 – C'est un sacré bazar dirait notre Arno national ! Il y a de tout dans tous les sens. Du français, de l'anglais, du néerlandais. Des suggestions de vins épuisés, des vins parfois en provenance de Vivino France, parfois en provenance de Vivino Nederland. Des prix barrés souvent surévalués. Pffff, l'app est nettement mieux que le site, c'est certain, mais c'est le côté vente en ligne que l'on voulait tester, et on est un peu perdu, à vrai dire.
Le Service client
-/20 – En toute honnêteté, nous ne pouvons pas le noter, vu que nous n'avons pas trouvé de bon plan qui justifie une commande…